The Allegheny Health Network (AHN) Medicine Institute continues to shape the future of medicine. Read the latest news and updates.
Welcome to the Medicine Institute Alumni Newsletter
Greetings fellow alumni of our beloved program! My name is Tas Kapetanos, a 2011 graduate, former chief resident, and now program director. I welcome you to our first alumni newsletter. Our hope is to keep you informed of the growth and success of your alma matter, to continue to give you reasons to be proud of where you trained, and to provide you the opportunity to pay it forward for tomorrow's physicians in our residency program.
With your help, we are excited about the future, particularly growing our research and global medicine curriculum.

Tas Kapetanos, MD, FACP
Program Director, Medicine Institute
Recruiting Tomorrow's Physicians Today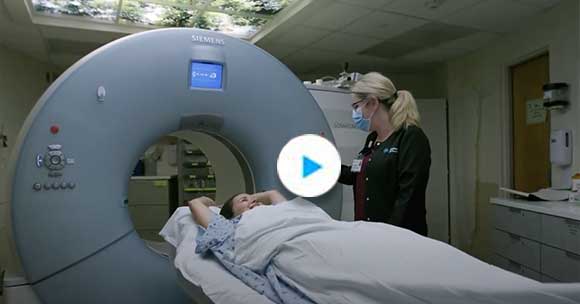 Due to the profound disruption caused by the COVID-19 pandemic, the 2020-21 GME recruitment cycle was unlike any we had ever experienced. Within weeks of the first cases arriving in the U.S., we knew that if we continued the conventional recruitment process, the conditions of the pandemic would pose a clear threat to the safety of our candidates and equity of opportunities for all.

In response, AHN immediately adopted the recommendations of the national Coalition for Physician Accountability and implemented a process for virtual recruitment in a matter of weeks. The AHN Medicine Institute led the way in these efforts through the participation of our 10 fellowships in the first wave of recruitment, the Medical Specialties Matching Program, and the Internal Medicine Residency Program's support of the fellowships in defining best practices that were carried out through the entire year.

It is a testament to our people that the authentic and human feel of our programs was effectively transmitted through our website, videos, and virtual interviews. This led to another outstanding match result—the same outcomes as we have seen in any year!

Here's an overview of these efforts:
5,582 applicants (compared to 4,735 last year)

24 interview days (compared to 18 last year)

427 applicants interviewed (compared to 277 last year)

98.8% of slots filled vs. 84 - 86.5%
We have already begun the process of preparing for another virtual recruitment for 2021-22 and expect another invigorating season accommodating nearly 500+ applicant interviews.

James B. Reilly, MD, MS, FACP
Vice Chair for Education, Medicine Institute
Join Us in Wishing Dr. Joe Reilly a Happy Retirement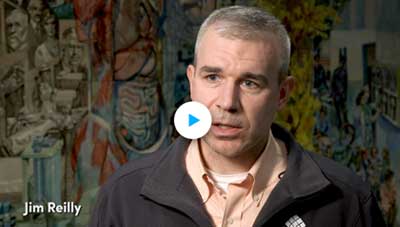 James Joseph "Joe" Reilly, MD, long-time director of the Internal Medicine Residency Program, retired in July. Dr. Reilly is well known for the compassion and care he provides to all residents, the program, and AHN. We thank Dr. Reilly for his years of service and all the lives he's touched. Staff, physicians, and mentees were honored to put together a special video recognizing Dr. Reilly's impact. Would you like to make a gift in honor of Dr. Reilly?
Internal Medicine Residency
Program Achievements
| | | |
| --- | --- | --- |
| 96% Board Pass Rate | 100% Recommend the Program | 100% Fellowship Placement |
Congratulations to Mais Arwani, MD, and Marshall Bahr, MD, internal medicine resident physicians at AHN Allegheny General, for receiving the 2021 Golden Apple Awards.
A Day in the Life of a Resident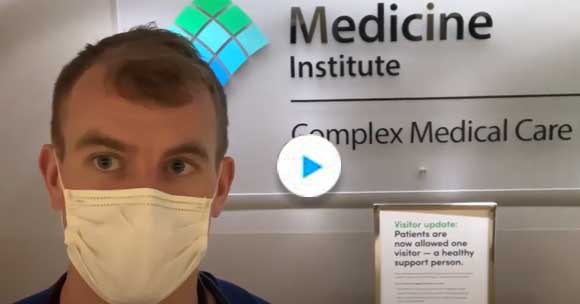 Meet Max Jacobs, MD, one of our many incredible residents. Dr. Jacobs was kind enough to film a day in his life on the inpatient teaching service at AHN Allegheny General. His story gives a realistic perspective of what a call day is like on one of our busiest rotations.
Support Internal Medicine Residents with a Gift to the Claude Joyner Fund
Did the AHN Medicine Institute have a profound impact on your career? Do you want to pay it forward so more residents can develop the skills they need to care for patients? Do you want to honor Dr. Reilly and wish him well in his retirement?

Consider supporting the AHN medicine institute with a gift in honor of Dr. Reilly or to pay it forward for future residents. All donations will support the Claude Joyner Fund, which provides internal medicine resident research opportunities and travel, wellness events and activities, training, and more.